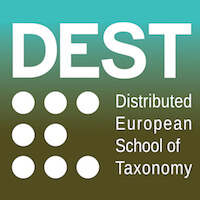 Date : autumn of 2022, to be specified
Course description
DEST (Distributed European School of Taxonomy) and ForBio are pleased to announce that the popular Basics of Taxonomy Course will be organized again in 2022 with support from the Swedish Academy of Sciences.
This two week course gives a comprehensive theoretical overview and hands-on experience about different methodologies on how to describe, illustrate and communicate biodiversity. The course covers the following topics, each taught by an expert in the matter:
• Digital drawing
• Scientific illustration
• Scientific writing and communication
• e-Taxonomy and biodiversity informatics tools and workflows
• DELTA (DEscription Language for TAxonomy)
Selection and registration
Criteria for selection will be scientific merit, motivation and usefulness of the training course for the applicants. Students who complete this course will receive a 5 ECTS course certificate. Registration form to come.
Course language 
: 
English only.
Participant quota : 
Maximum 18 students. Participants will be selected based on the registration form, which includes a paragraph for motivation and importance of the course for your study/work (max 100 words).
Fee : 
The registration fee for this course is 400 €, and will include course attendance, teaching, course material, accommodation and meals.